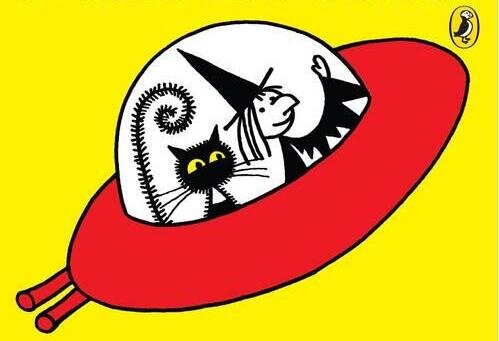 When I heard news of Jan Pieńkowski's death on the radio last week (19 February 2022) I felt a genuine sense of sadness. But it niggled that I couldn't call to mind what the award-winning author and illustrator looked like. It sounds awful, but I'm not sure I ever really could.
If it's any form of consolation, the faces that did present themselves in that moment were unmistakably those of Meg and her stripy cat, Mog.
As a little reader growing up in the 1980s, I adored Meg and Mog's madcap escapades. Whether it was the simplicity of vegetable growing and egg cooking or something more perilous like a birthday trip to the moon or a jaunt to the top of the highest mountain, these were books full of joy, imagination and hapless adventure.
Meg and Mog inhabited a world in which the everyday barely went to plan. Spells went awry. Mealtimes were often central to the action. And events that started out small and innocent swiftly escalated into something slightly more unmanageable. When I started working in the world of picture books some years later, the penny finally dropped: what Helen Nicoll and Jan Pieńkowski had created was the world of children – written and illustrated perfectly for them.
Pieńkowski drew on his experiences with paper cut-outs to create the simple shapes and forms that would become Meg and Mog's world. Bold, black silhouettes are juxtaposed with pattern and colour to balance both the familiar and the dramatic. The use of bubbles and balloons to capture asides and sound effects – alongside the illustrators playful use of typography – all succeed in creating a rich narrative that even the youngest of readers can get to grips with. Text is kept to a minimum, facial expressions and body language helping to reveal most of the action.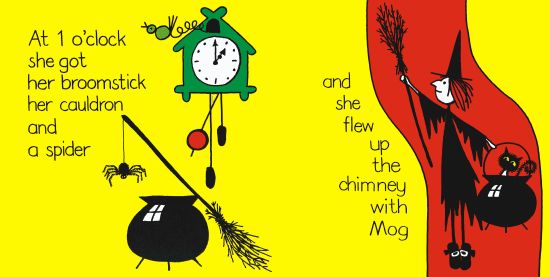 In a world saturated with wonderful picture books, it's funny how the books we read and loved as children still remain our firm favourites. The colour palette, the typographical elements and distinct page designs of Meg and Mog are ingrained in my reading history. Which is probably why I couldn't bring myself to watch the duo brought to life on the screen. They were already alive in my own imagination, walking, talking and enjoying a nice cup of tea at the end of the day.
So it may be 'Goodbye' from Jan Pieńkowski. But I'm confident that Meg and Mog – in all their magical glory – will live on in the hearts of children for at least another lifetime.